International Communist Workers Party


ICWP@Anonymousspeech.com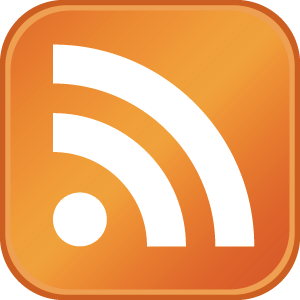 Garment Workers:
Red Flag Needs Your Help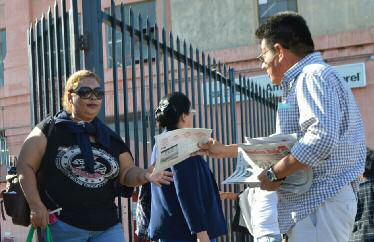 LOS ANGELES, USA, Dec. 14—It was exciting to see dozens of workers reading Red Flag while they waited for the bus that would take them home after a grueling day of work in the American Apparel garment factory. They were reading the article about a communist world without money as it related to the bankruptcy of American Apparel and the workers' uncertain future, in the last edition of Red Flag.
There are still no direct comments to us about communism and what we write. But for a long time, perhaps years, many of these women and men workers have gotten our newspaper and taken it to their homes.
A similar phenomenon occurs in other garment factories like Koos, where we distribute an average of 500 s per edition overall. In Koos many workers take the paper and stand near the door to read some article and comment among themselves. When we ask them what they think and if they have some opinion about what they are reading, they smile and only say, "Its okay." Many women workers take the newspaper and leave in a hurry because they have to go work at home to prepare food or take care of the children.
If the laws of dialectics don't fail us, these men and women workers are a silent volcano. The alternative of the fight for a communist world, without exploitation, or racism or borders is still an option, a step that they have not taken, but must take. Capitalism, with its exploitation, racism, sexism, and wars devastates their lives, as it does in the whole working class worldwide.
Therefore, the main question is how to win these men and women workers to join the party (ICWP) and actively take as their own the need to build communism.
We have started to write more about what is happening inside the factories and dealing with some of these workers' specific questions. We are trying to make new contacts, visit them and invite them to our club meetings to develop communist political relationships with them.
We need the help of the women and men workers from these factories, so that they help us discover the main contradiction that keeps them from joining the revolutionary communist struggle. We also need the comrades in the maquillas in El Salvador to write about their experiences, as well as the comrades in South Africa and India.
The concentrations of work and the building of ICWP in any part of the world are the responsibility of the whole party and the working class. We look forward to your comments and suggestions through letters or articles.
In these factories we have a great potential to achieve the communist world that we need. Join us.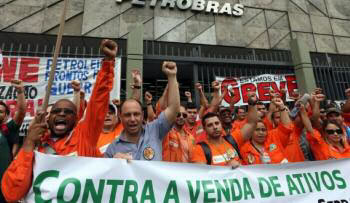 BRAZIL, Nov. 24--Oil workers begin a five-week strike against the national oil company