Size:
ABC
ABC
South African Women Workers Lead May Day Mobilization for Communism
PORT ELIZABETH, SOUTH AFRICA, May 1— "ICWP flows in my blood," said a new comrade who had spent tremendous efforts for decades in the African National Congress (ANC).  He is not alone.  Masses are joining the International Communist Workers' Party as they are fed up with various capitalist led political groups like ANC, Democratic Alliance, South African Communist Party (SACP) and various unions.  This was a clear message of May Day 2016 in Port Elizabeth.
The main May Day event organized here by the trade union federation COSATU, ANC and SACP was a disaster.  But not for ICWP.  We were offering communism as the only solution, they were offering capitalism, more repression, racism. 
Our contingent of ICWP members and friends started arriving at the event at the scheduled opening time.  There was hardly anybody there.  Under severe threat of violence, when even holding May Day was illegal under apartheid, ANC used to attract tens of thousands here. 
Our contingent, undeterred by the low turnout fanned out in the neighborhoods and distributed Red Flag and our May Day leaflets.  And as workers started trickling in, we continued to distribute our literature. More importantly, we engaged in serious conversation with the masses about the communist alternative and the need to join our party ICWP.
The response was overwhelming.  Several pledged to join and attend our communist school to be trained as revolutionary members to mobilize the masses for communism.  We were the only organization with the literature and almost everybody who attended the May Day event got Red Flag. We distributed 1000 copies and another 1500 a week earlier along with thousands of leaflets and End Racism pamphlets.
The most important aspect of our activities is the development of women comrades as leaders.  Over half of our contingent was women.  Several played leading roles in mobilizing.  The comrade who dedicated several long hours every day to organizing in various townships exuded confidence. She said, "Next year we will fill up this hall and it will be our May Day event."  She added, "At this rate it won't be long before we have 2000 members."
We need her energy, enthusiasm, passion and bold approach to reach the masses with communist ideas.  This is in sharp contrast to various capitalist-led organizations that are in disarray.  The deeply disappointed ANC, due to their failure to attract the masses, has given up on them.  We are seizing this opportunity and recruiting the masses to the revolutionary communist alternative. 
Our next event is organizing for the Communist School.  New and old comrades are extremely committed and enthusiastically building for it.  With the masses we will learn and discuss the philosophy and science of dialectical materialism.  We are already using this revolutionary method to struggle with the masses, identify the obstacles and patiently overcome them. 
The mood of the masses here looking for an alternative can be summed up in a small example.  A young student took a copy of Red Flag and asked us what it was about.  The comrade explained that we are organizing the workers around the world under our banners of fighting for communism. The student said that he was a member of DA (Democratic Alliance, a right wing political party).  But, he added, he liked our ideas.  We told him about our Communist School.  He paused for a minute and then asked us if he could come with a friend.  As the conversation went on, his interest in communism got deeper.  He asked for a stack of Red Flags.  As we had to leave, he said, "I will come with four friends to the Communist School."
This example and many more similar experiences that the comrades are reporting illustrate that we have tremendous potential to recruit thousands of workers and youth to our party in the very near future and lead class struggle against capitalism.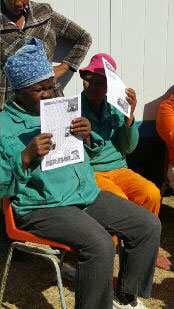 This photo from the meeting organizing for May Day reported here.
***
Los Angeles Youth Spread and Defend Communist Ideas on May Day
LOS ANGELES, USA, May 1--The contingent of the International Communist Workers' Party this May Day was made up of veterans, students and workers. We marched on the streets of downtown. More than eighty marched carrying red flags and two banners, one that read "For a Communist World:  No Money, Racism, Borders, or Bosses" and the other stating our guiding principle of "Mobilize the masses for communism."
The young people and workers with much emotion, passion and class hatred chanted slogans like "Long live communism! Power, power to the workers!"  We organized five groups of two. One person carried Red Flag and the other our new pamphlet To End Racism, Mobilize the Masses for Communism. These groups distributed about 900 Red Flags and more than 600 of the pamphlets.
The following are comments from some of the young people who marched:
At the march a young lady asked me if I was for communism.
"Of course"' I said. Then, she asked if I could explain what communism is.
"A world without borders, money, racism, discrimination or bosses. There will be no hierarchy, no rich and no one will be poor," I said.
She responded, "I didn't know that, I thought communism was bad because in school they say it's bad."
*I said to her that we are taught a capitalist education and they don't want you to know how communism really works. They want to keep us blind and distracted from what's really going on. 
*An older lady said, "You've been brain-washed."
I responded to her, "I understand communism and I'm against any capitalist government and everything they stand for. If you're accepting the fact that you need a president or a government to tell you what, how and when to do it or how and when you're going to work or even how much you're going to make, then that just shows that you're not open-minded to new ideas and it seems that you need someone to tell you what to do. What's better is that we should be helping out each other and stand together as one."
*All of us were there, fighting for what is right. We proudly stood our ground waving the red flag. I enjoyed very much being part of this event. I will keep participating in the years to come.
*My comrade and I went with Red Flag and the End Racism pamphlet talking and answering questions about communism. A young man said to us that our party was anti-union. He showed us a copy of our newspaper to prove it to us. He insisted that we were wrong.
"Yes, we are against unions because they negotiate workers' wages, we want to eliminate wages all together." Then I added, "Unions work with the government. They don't stand with the people." As a communist I believe that to truly achieve a communist world we must exile all capitalist ideas.
*There were many different people marching for many reasons; for immigration reform, to stop deportations and to raise the minimum wage. There were children holding signs, banners, and posters that read "Don't deport my parents."  But we were the only ones there marching to mobilize the masses for communism. Only with communism we will create a world where no one will be an immigrant, there will be no deportations because we will live without borders.
These young comrades and many others played a very important role. They took the lead in many aspects of the march, both planning and implementation. The other demonstrators in the march were amazed in a very positive way. Often they approached the contingent and took many pictures and asked who are you?
We are the International Communist Workers' Party. Our summer project will have a communist school, write and distribute Red Flag, visit factories, schools, transit and military bases. In this way, these young people will develop politically and practically even more.
The Party is in good hands.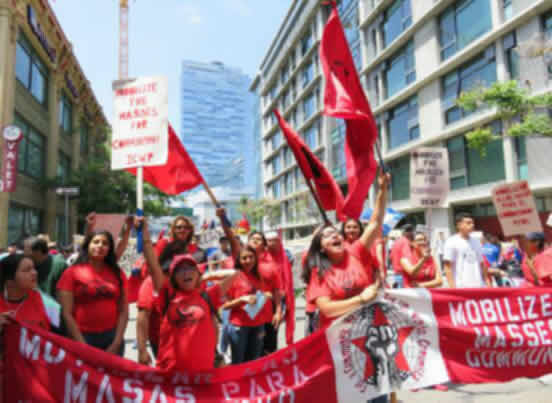 LOS ANGELES, May Day--Young workers and students who have been Party members for several years gave crucial leadership to younger students. They contributed to the seriousness and discipline of the contingent.
***