Capitalism Must Burn Up in Flames
SOUTH AFRICA, August 14 — Residents in Walmer Township of Port Elizabeth were up in arms the past few days in protest against lack of service delivery. Walmer Township is an impoverished area next to the Port Elizabeth Airport, which is in an affluent, leafy suburban area.
The angry residents barricaded the main roads leading into the business district.  About five hundred protesters burned tires and debris and hurled stones at the passing vehicles in an attempt to register their demands to the local municipality over the failed promises.
The workers in and around Walmer are fed up with the lack of basic necessities like running water, electricity, sanitation, transportation.  The joblessness rate is over 50%.
The police came with water cannons to remove the burning tires and debris on the road. They used tear gas and rubber bullets to disperse the angry crowd. One policeman shot himself in the foot with his shotgun, which went off in the ensuing chaos. Some protesters were arrested for alleged public violence and intimidation.
Later on in the day, the angry crowd gathered at the nearby police station demanding the immediate and unconditional release of their fellow protesters. They threatened to burn down the police station.
In Kenton-on-Sea and in Mthatha similar protests were taking place, with residents fuming over lack of provision of basic services like water, electricity, houses. These services were promised by the ruling party more than twenty years ago.
What has happened in Walmer can happen all over South Africa.  The African National Congress that came to power has not only failed to deliver reforms but it is attacking the working class with vengeance. 
One local resident described it:   "We in South Africa are back in the apartheid days. Nothing has changed.  I've experienced more than ten years of riots and civil unrest in the 80′s and lived through military and police operations. The unrest in Walmer and Marikana has many similarities with the past."
It must be capitalism that burns up in flames! Masses mobilized for communist revolution will bring an end to this inhumane, barbaric bosses' system once and for all. No amount of reform will bring an end to the bosses' system. Only a thoroughgoing communist revolution will.
 Slowly but with firm resolve we are building the International Communist Workers' Party (ICWP) in South Africa.
We will make sure that the angry masses of today will become revolutionary leaders for communism.  We have nothing to fear as the bosses' worst nightmare will occur, sweeping the entire world with a communist society built on the needs of the working class. There will be no money, no bosses, and no borders.  Today we must organize as one class under the banner of ICWP. One class, one enemy; communist revolution is our goal.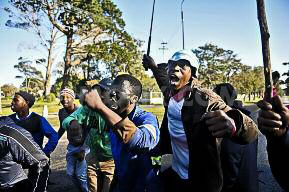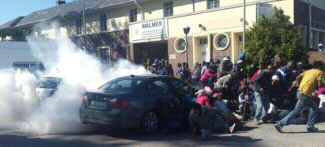 ********
Taking Communist to Garment Workers
EL SALVADOR—A group of comrades from the International Communist Workers' Party (ICWP) mobilized to distribute the party's literature to workers in the factories in the Salvadoran capital. Our leaflet explained our position about the daily suffering that the working class lives through in the maquila areas of El Salvador.
Because of previous experiences when police have threatened us, we organized this action with care.
We distributed more than 500 leaflets. One comrade had a conversation with a worker from the factory in which the worker began by saying, "I have worked here since they began building this place. These Asian bosses came to get rich off our sweat and have been supported by whichever government has been in power. The deal between these bosses and the government has been that they would not pay taxes and that they could open this place to exploit the unemployed."
We should have asked if it would make workers feel any better if the bosses who oppress them were Salvadoran.
"Where do you come from?" asked the same worker.
Our comrade answered, "We are members of ICWP and we're distributing the newspaper Red Flag. Read this leaflet and have confidence that we're your friends."
 "How many of you are here?" he asked.
 "There are several of us," was the reply.
Our comrade asked him, "Is this the time you leave the factory?"
 "Yes," answered the worker.
As we continued distributing the leaflet, the worker read it and told me, "This abolition of money:  it won't ever happen."
I answered, "Well there is no better struggle than the one that is beginning.  Let's shake hands and we'll see each other next time."
 "All right," answered the worker.
What satisfaction to carry out this communist action!  Not so much for the experience, because I am used to distributing the Red Flag newspaper in my community. 
But not everything is the color of love. There are setbacks due to the television bombardment of capitalism which, I have found, is anti-human and anti-communist.
Most of the workers took the leaflets, a few did not. We need to continue with the actions of leafleting and distributions in a mass way.
Wherever we know workers inside a factory, we must generate an intense struggle with them to sharpen the internal struggle among their co-workers.  This means attacking pacifist and reformist (union) ideas among them. 
 It means talking to each one of them in coffee shops, visiting them at home or using other opportune moments to talk about communism, the need to organize and the contradiction between reform and revolution.
Read, discuss and distribute Red Flag!
********
Bolivian Miners on Strike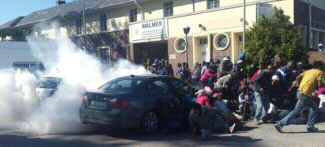 POTOSI, BOLIVIA, August 5 – Thousands of striking silver and zinc miners have been on an indefinite general strike. More here.